Frequent touch areas include door handles or push plates, electronic devices including credit card readers and POS systems, check presenters (if used), phones, restroom doors, faucets, soap dispensers, railings, refrigerator door handles, etc. These frequently touched surfaces should be disinfected routinely throughout the day. You should have written procedures in place to assure frequent touch surfaces are being disinfected. The information should include: who is responsible for cleaning/disinfecting; what product is to be used and the directions for use; how often these surfaces will be disinfected; where the chemicals will be stored; and a reminder to wash hands for 20 seconds after handling the disinfectant. If a spray bottle is used, the name of the chemical should be on the bottle along with the mixing instructions and contact time for the disinfectant to be effective. For restroom cleaning and disinfecting, you may want to keep a log readily available to document the cleaning/disinfecting schedule.
There are numerous products that are effective disinfectants against the coronavirus.  See if your disinfectants are on the EPA list. 

Here is a video describing the difference between sanitizing and disinfecting:
If you use EcoLab products, the Peroxide Multi Surface Cleaner and Disinfectant and Mikro-Quat are on the EPA list of disinfectants against the coronavirus. In addition, many of the Clorox products are on the approved list as well.
Remember, the proper concentration and contact time for your disinfectant is required to kill the coronavirus. Most of the disinfectants may NOT be used on food-contact surfaces. (Make sure to refer to the manufacturer's instructions).
Alcohol based disinfectants may be better for use on electronic devices as theyevaporate quickly. Alcohol probe wipes work well for these devices. Make sure to confirm the alcohol content is between 60-95%.
*There can be chemical interactions when chemicals are mixed that are deadly so make sure to review the Safety Data Sheets (SDS). Call your chemical supply company if necessary.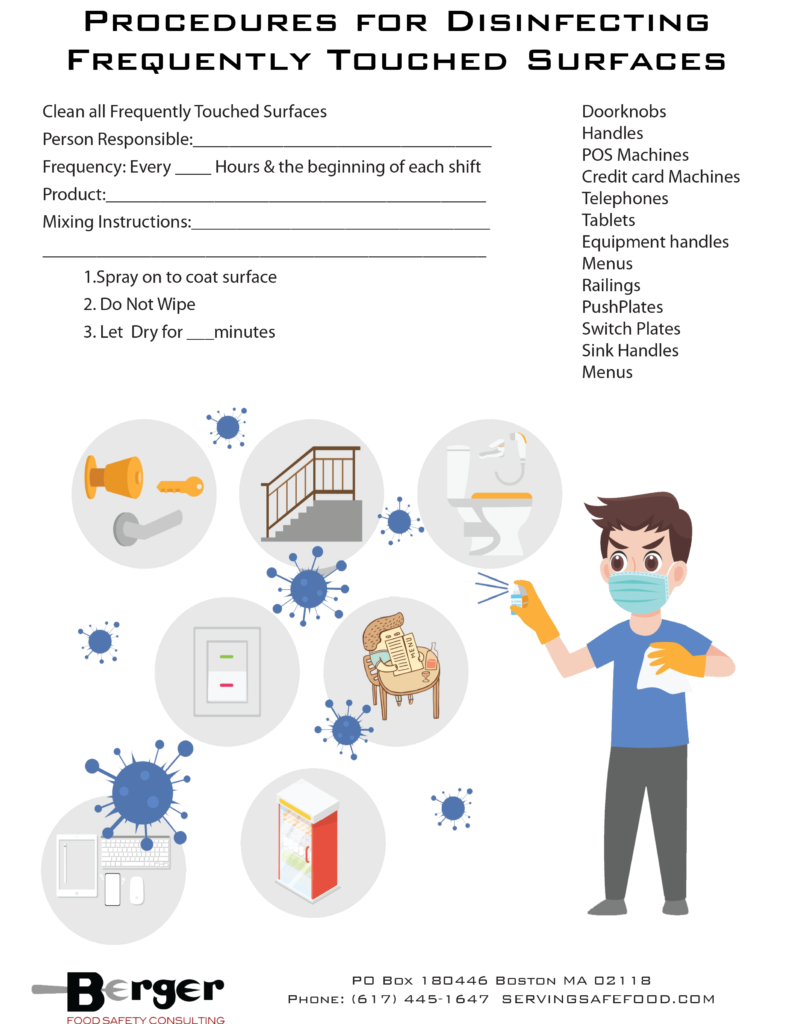 Download the sample Procedure Here